PREMIER AMAL CARBURETTOR, CONCENTRIC, 900 SERIES, 30MM, RIGHT HAND, GENUINE, 930/300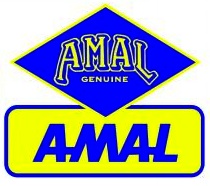 PREMIER AMAL CARBURETTOR, CONCENTRIC, 900 SERIES, 30MM, RIGHT HAND, GENUINE, 930/300
Replaces Amal OEM Part No: 930/300
1 piece (complete). Genuine Premier Amal carburettor, 30mm, 900 series Mark 1 concentric. Tickler primer on right side.
The Worlds Sole Manufacturer of Genuine AMAL Carburettors and Spares.
Comes fitted as standard with:
- Bellmouth (ram tube)
- 3 Cutaway Hard Anodised Slide
- 200 Main Jet
- 106 Needle jet
- Single banjo
We also carry air filters and other spare parts to assist in fine tuning this carburettor to your motorcycle's specs. Please see our other listings.
Made in England by Amal.
Brand new, OEM superior quality.